Good Night my Love...
... itīs time to go to bed
I will read a bedtime story to you, o.k?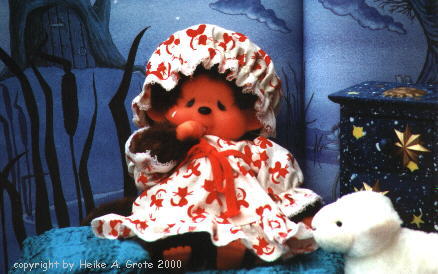 Sleep well and listen to the lullaby
The sleeping-dress she wears is from the 80īs. The piece of elastic at the dress and heat droped off during the years. Therefore no Monchhichi wears this nice "good night-dress" for years. So I sew it new. Now it looks like the day when I bought the dress.The bed is no original Monchhichi-item. I knit it when I was sixteen years old. Since then it is my Monchhichi bed.
Heike

back to My Monchhichi Photo Gallery