Description: Title, year of publication (Title in german language) date of my finishing the book
Fannnie Flagg
Fannie Flagg is an american author which is also a TV- and movie actress. She was nominated for an Oscar for the filmscript of the movie "Fried Green Tomatoes at the Whistle Stop Cafe" which is based on her book of the same name and won the Scripter Award . I really enjoy to read her books, which often shows the heart of America away from big cities. While reading her books I laughed and cried. Fannie Flagg lives in Montecito, California.
More Fannie Flagg Links: Whistle Stop Cafe.
Daisy Fay and the Miracle Mann, 1981 (Das wundersame Leben der Daisy Fay) March 1, 2005
Fried Green Tomatoes at the Whistle Stop Cafe, 1987 (Grüne Tomaten) July, 1 2003
Welcome to the World, Baby Girl! 1998 (Die Reise nach Elmwood Springs) July 26, 2003
Standing in the Rainbow, 2002 (Glück unter dem Regenbogen) May 5, 2004
A Redbird Chrismtas, 2004 (Das Wunder von Lost River) January 1, 2006
Billie Letts
Billie Letts was born in Oclahoma, where she lives with her family now. Letts, a universityprofessor, wrote herself into the heart of the american readers through her numerous short stories. Her first novel "Where the Heart is" was filmed under the direction of Matt Williams. Till 2006 she wrote 3 novels as seen here. In her novels you meet fascinating people who experience life in a sometimes thrilling and also heart-warming story.
More Billie Letts Links: an interview with Billie Letts
Where The Heart Is, 1995 (Wo Dein Herz schlägt) October 2002
The Honk and Holler opening soon, 1998 (Das Cafe der Glückseligkeit) August 8,2002
Shoot the Moon, 2004 (Wohin Dein Herz dich führt) October 10, 2005
David Sedaris
David Sedaris,born 1956 in Johnson City, New York, raised in Raleigh, North Carolina studied Art and wrote for The New York Times, The New Yorker and Esquirer. With his sister he drew up several theatre plays. In the moment (2006) he lives in Paris. He read aloud his former textes as columnist in Americas cultradiostation National Public Radio and attained cultstatus with his "SantaLand Diaries". They make him and his voice famous. He had his breakthrough with the autobiographical familynovel "Naked". How could I describe his books? His stories are neurotic but also fantastically strange.
More David Sedaris Links: New Public Radio
Barrel Fever, 1994 (Fuselfieber) January 7, 2005
Naked, 1997 (Naked) November 3, 2003
Holidays on Ice, 1998 (Holidays in Ice) November 20, 2003
Me talk pretty one day, 2000 (Ich ein Tag sprechen Hübsch) December15, 2003
Dress your family in Corduray and Denim, 2004 (Nachtprogramm) June 19, 2005
Marc Levy
Marc Levy was born 1961 in France. His profession is to be an architect but he discovered his love for literature and cinema early. From 1983 till 1990 he lived in San Francisco. He lives as author in London and Paris now. Till 2006 he wrote 5 novels as seen here. Every story of him has a surreal part. I am always surprised about the ideas he had found for the experiences his characters make besides the "normal" life.
Et si c'était vrai..., 2000 (Solange du da bist) October 24, 2000
Où es-tu? 2001 (Wo bist du?) October 11, 2005
Sept jours piur une éternité, 2003 (Sieben Tage für die Ewigkeit) January 6, 2006
La prochaine Fois, 2004 (Bis ich dich wiedersehe) August 8, 2005
Vous revoir, 2005 (Zurück zu Dir) March 18, 2006
Sue Monk Kidd
Sue Monk Kidd has wrote biographies before she wrote her first novel "The secret life of bees". She lives in South Carolina together with her family. You should visit her homepage, where she offers discussion groups about her books. I am a registered member, see under papoa.
The secret life of bees, 2002 (Die Bienenhüterin) November 9, 2005
The Mermaid Chair, 2005 (Die Meerfrau) March 13, 2006
Rebecca Wells
Rebecca Wells grew up at a plantation in Louisiana, worked as a waitress and took writinglessons at Allan Ginsberg before she had a career at the theatre. "Little altars everywhere" was her debut as author. She lives together with her husband on an island in the near of Seattle. The second novel "Divine secrets of the Ya-Ya Sisterhood" is the continuation of the first book. For me it is one big story. The Past and the Presence of the story can be better understood if you read both books. A familystory beginning in the first part of the 20th century in the deep south of the USA till today.
Little altars everywhere, 1992 (Wie Himmel und Hölle) April 25, 2003
Divine secrets of the Ya-Ya Sisterhood, 1996 (Die göttlichen Geheimnisse der Ya-Ya Schwestern)
June 3, 2003
Philip Pullman
Philip Pullman born 1946 in Norwich grew up in Rhodesia, Australia, London and Wales. He lives together with his wife and his four children in Oxford where he works as teacher. Pullman writes between the literary frontiers. His novels include adventure-, fantasy- and thrillercomponents. Every novel is very thrilling and plays somtimes in the past and sometimes in the presence and sometimes between, in a third dimension.... The books of "His dark materials" are about the girl Lyra and her demon Pantalaimon which whom she is inseparable connected who experience incredible and thrilling adventures. "The Ruby in the Smoke", "The Shadow in the North" and "TheTiger in the well" can be also seen as 3 bands of one story aboot 16 year old Sally Lockhart who lives in the London of 1872.
His dark materials 1 : Northern Lights, 1995 (Der goldene Kompass) June 6, 1999
His dark materials 2 : The subtle knife, 1997 (Das Magische Messer) February 14, 2000
His dark materials 3 : The Amber Spyglass, 2000 (Das Bernstein Teleskop) Mai 5, 2001
Lyra's Oxford (fourth part of His dark materials), 2003 (Lyra's Oxford) November 19, 2004
The Ruby in the Smoke, 1986 (Der Rubin im Rauch)
The Shadow in the North, 1988 (Der Schatten im Norden) February 6, 2001
The Tiger in the well, 1991 (Der Tiger im Brunnen) February 26, 2004
Count Karlstein, 1982 ( Graf Karlstein) July 15, 2004
The Tin Princess, 1994 (Das Banner des roten Adlers) June 15, 2004
Clockwork or all wound up, 1996 (Das eiserne Herz) March 23, 2005
to be continued....
last update of this list : March 18, 2006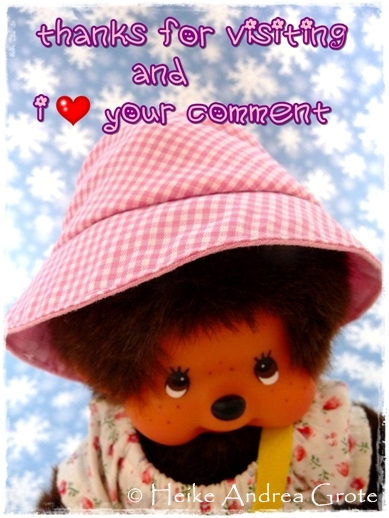 Facebook Comment box












Copyright of the Monchhichi photos by Heike Andrea Grote.
You are not allowed to copy or publish them.
Thank you.